01 Aug

Bespoke Decorative Bathroom Doors
Bespoke Decorative Bathroom Doors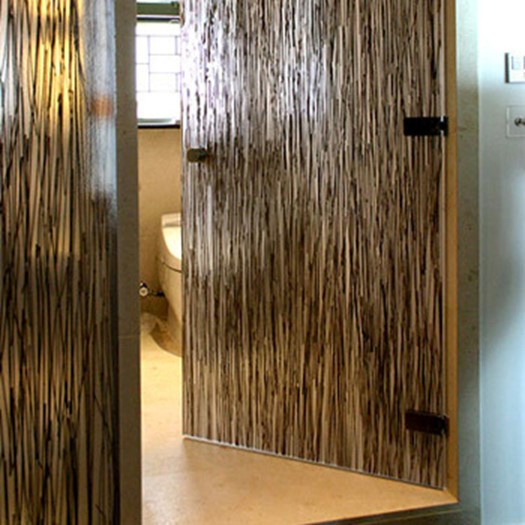 Stronger, lighter and less expensive than glass doors, our bespoke resin decorative bathroom doors add WOW factor to any residential and commercial setting.
Decorative Panels
Artfully designed and versatile, our Class A fire-rated, 0.05"/1.27 mm gauge resin panels contain cycled materials (min. 40%) and inhibit microbial growth within organic materials. Available in an infinite range of designs, colours & decorative interlayers and delivered complete with trims and opaque back panels in a wide range of gorgeous colours, they are the perfect solution for an endless range of interior design applications – including custom-made bathroom doors.
Decorative Bathroom Doors
Designed to bring timeless beauty and elegance to any environment, including residential, healthcare, hospitality or education; government, corporate and retail applications, our tailor-made bathroom doors are a lightweight, strong and highly cost-effective alternative to glass or wooden doors – and can be produced in an extensive choice of design styles.
Whether you hope to 'jazz-up' your bathroom door with a funky-coloured tile-style design or wish to make it the entrance into a natural haven of peace and relaxation with a bamboo or seagrass inlay; whether you wish to enhance your office or hotel facilities with the classy elegance of wood veneer or transform your hospital ward with a clean, but stylish flower design, we can bring your design vision to breathtakingly beautiful reality.
Need a little inspiration? Check out our Mystique Collection for currently available designs. Have something specific in mind but cannot find it there? Please get in touch – bespoke creations are at the very core of our philosophy, and with a limitless material choice and an infinite palette of colours, the possibilities are indeed boundless…
The versatility of our bespoke resin panels means you can even carry the 'theme' of your stylish new bathroom door into your facilities' interior by transforming shower screens, walls, counter tops/fronts and more with matching panels.
More Information
Contact us online, e-mail us: sales@thedecorativepanelcompany.com or give us a call on: +44 (0) 20 3292 0616 today to learn more and/or discuss your specific interior design vision's requirements.