Bespoke Decorative Privacy Screens
Our decorative privacy screens are incredibly beautiful, cost-effective and easy to install. They are the perfect solution to a multitude of interior design applications.
Decorative Privacy Screens & Partitions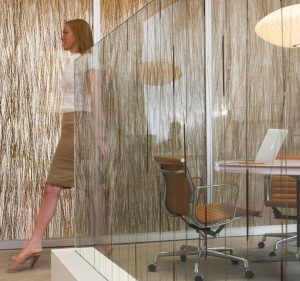 Our decorative privacy screens and partitions are available in any size, finish and shape. They can also incorporate a virtually limitless choice of metal, organic, botanical and textile materials. These are encapsulated within strong, lightweight resin panels (gauge: 0.05"/1.27 mm).  Our privacy screens are suitable for any setting, from retail, corporate and hospitality to residential, government, education and healthcare applications.
Our privacy screens also inhibit the natural microbial growth that tends to occur within organic materials. They also contain cycled materials (minimum cycled content: 40%) and are Class A fire-rated. As well as this, these panels are delivered complete with fixing hardware, opaque back panels and trims in virtually any colour of your choice, a range of exceptionally beautiful lighting options and, of course, installation.
Explore our range of design styles here:
Bespoke Privacy Screens and Partitions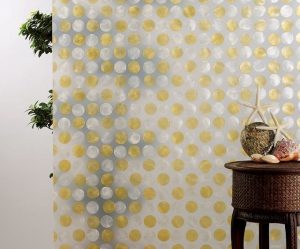 In addition to our existing styles, we can also offer to create a style to meet your own design specifications. Our philosophy does, after all, focus on bespoke creations – and with a virtually limitless range of material and colour choices, the world of interior design possibilities really is your oyster…
Boasting an extensive portfolio of high-class installations around the globe and over 15 years' worth of experience, we can help you make your interior design vision become dazzlingly beautiful reality with custom-made partitions and privacy screens designed to bring magnificent beauty and timeless, classy elegance to your project.
More Information
Please do not hesitate to contact us for more information and/or to discuss your requirements via e-mail: sales@thedecorativepanelcompany.com, online or by calling +44 (0) 20 3292 0616 today.