Bespoke Decorative Screens
Our bespoke decorative screens provide privacy, enabling you to section-off areas without loss of light. Our screens also make impressive focal points in your interior.
Decorative Screening Panels
Our screens are inspired by architectural design and are created by our team of innovative designers. They are custom-made and encapsulate botanical, organic elements, including plants and wood veneer, metals and textiles. These elements are placed within high-quality resin, bringing an elegance and timeless beauty to any setting.
Bespoke Decorative Screens
Our bespoke decorative screens can be custom-made in any required shape, size and finish. Our Class A fire-rated decorative screen panels contain at least 40 per cent of cycled materials. They also inhibit organic materials' microbial growth. As well as, coming complete with trims and opaque back panels. These back panels are available in a virtually limitless choice of stunning colours.
Decorative Screen Applications
The application possibilities of our screens are endless, with a virtually unlimited choice of materials and an infinite palette of colours. Whether you require screens for healthcare, hospitality and residential, education, retail or government and corporate, you will find the perfect screen.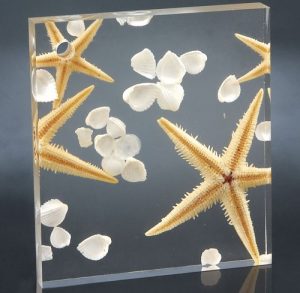 Do you have teenagers sharing a room? Give them the privacy they desire by partitioning their room with a funky screen. These screens can  encapsulate multi-coloured gems or glittering gold or silver flecks. You can also partition your corporate office with classy wood-veneer or floral screens. This therefore provides employees with a decorative private space to work.  Another option is to turn your bathroom into an 'underwater haven'. Use a shower screen that incorporates seashells, starfish, seagrass and even sand…
Need a little design inspiration? Check out our gorgeous Intrigue and Mystique Collections…
Our screens are the perfect solution for virtually any interior design application. This is because they are beautiful, versatile and easy to install. If you cannot find a design you like, we can also create bespoke screens. These screens can be made to meet your specific requirements. Just tell us what you have in mind and we will do the rest.
Boasting over 15 years' experience and a global portfolio of installations, we can also provide installation. We will make sure your interior design vision is successfully brought to stunningly beautiful reality.
Contact Us
Get more information and/or discuss your design vision with one of our helpful experts today by calling +44 (0) 20 3292 0616 now.